QSS AFTN MESSAGE SWITCH
A MODERN WINDOWS BASED ANNEX 10 SYSTEM
The CND QSS is a PC based ANNEX 10 compliant AFTN message switch designed to support from 2 to 60 AFTN workstations. Running under Microsoft Windows 7, Windows 8, Windows 10, Server 2008 or Server 2012 operating system, it is a full graphical interface windows package. Workstations are supported via local area network, asynchronous serial lines or Internet Email. Connection to the world AFTN is via an asynchronous serial lines using a companion product QSSSerial.
POINT AND CLICK CONTROL
All configuration is done via online screens and includes circuit tables, routing tables and collective tables. On screen status displays the circuit ID, name and link path, the (optional) address to use on service messages, the current status, format options and channel check mode, the number of messages waiting for each circuit by priority, and the sequence number of the last sent and received message. Additions, Deletions and modifications to all tables are made direct to the screen without taking the QSS offline.
QSS MAIN SUPERVISOR SCREEN
COMPREHENSIVE SUPERVISOR FUNCTIONS
| | |
| --- | --- |
| | Sending test messages |
| | Manual send channel check |
| | Supervisor Printer setup |
| | Online Routing Table maintenance |
| | Online Collective Table maintenance |
| | Show Routing for any AFTN address |
| | Repair of messages received in error |
| | Display of messages specifically sent to the supervisor screen |
| | Entering new messages |
| | Search the 30 day message archive of sent and received messages from all circuits |
| | Examine the contents of any message waiting queue |
| | Display last sent or last received message for any circuit |
| | Resend of any message retrieved. |
| | Print local copies of messages sent and received on any circuit |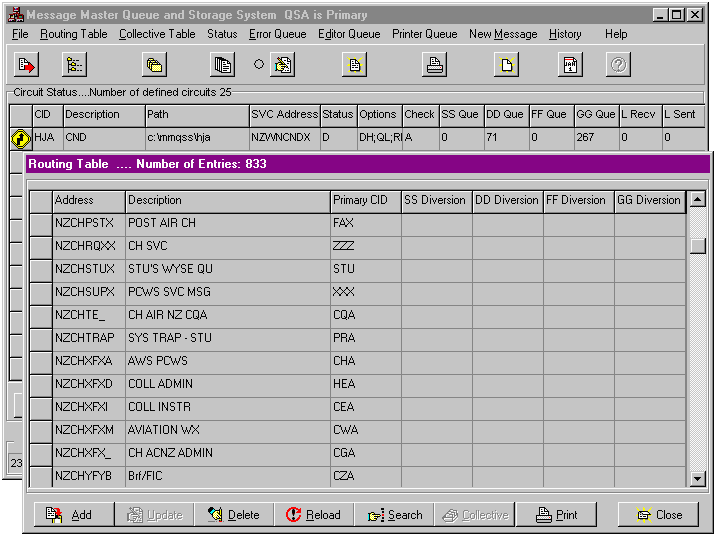 QSS ROUTING TABLE SCREEN
COMPREHENSIVE AUTOMATIC FUNCTIONS
| | |
| --- | --- |
| | Detection and alarming of failed circuits |
| | Annex 10 channel check |
| | Annex 10 sequence number checking of received messages |
| | Service message generation and dispatch |
| | Detection of dual QSS operation and switch over on primary fail |
| | Routing of messages with up to 3 lines of addresses with full address stripping |
| | Print or route a copy of received SS messages |
| | Classification of messages according to a keyword in the first line of text for fast retrieval |
| | Diversion to an alternate circuit selectable by priority |
| | Header line creation with optional extended date |
| | Transmit of messages in priority order, oldest first. |
| | Restoration of circuit and restore of diverted messages on receipt of an incoming message from a failed circuit. |
| | Maintain duplicates of all files in a dual configuration. |
| | Hourly backup of all database files. |
30 DAY MESSAGE HISTORY DATABASE
The QSS records each days sent and received messages for each circuit in an individual database file on disk. Thirty days of history databases are kept with the oldest automatically deleted each new day. The History database is searched by simply entering the required search qualifiers in the bottom row of the History display.
Database fixed fields can be qualified using arithmetic and Boolean AND and OR operators while the message text can be searched for any words or phrases.
DUAL PROCESSOR OPERATION
Full redundant operation with automatic switch over without message loss or restart. All supervisor functions can be performed on either the online or standby system with table changes reflected immediately on both systems. On restart, all databases are synchronized to the most up-to-date processor enabling the startup and shutdown of either machine without disruption to online traffic.